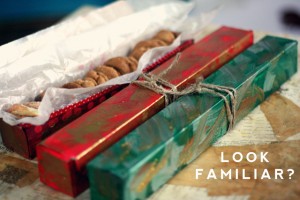 Good Morning Friends! I thought this was a super cute idea for gifting cookies. Start saving your foil/wax paper/Press n Seal boxes and use them to gift cookies over the holidays!  Idea borrowed here.
Also on the show today, I'll be reading from another incredible blog post called, Mom Guilt, I'm getting over it.  Most of the time, I feel like I do a pretty good job of being a Mom, I mean, life is just gonna be crazy for awhile.  But I totally connected with the negative thoughts Lisa-Jo Baker says run through her brain too…like,
–You should have added pureed spinach to dinner tonight.
–You should have remembered to buy spinach.
–You should have been meal planning for the last four years so that spinach could have made it onto the shopping list.
–You shouldn't have let them watch TV while eating last night. Or this morning.
–You should be having more meaningful dinner conversations.
–You should have baked the birthday cake from scratch.
–You should have bought more favors for the party gift bags.
–You should have taught them to do their own laundry by now.
–You should at least have a chore chart.
–You should have done more educational activities this summer.
–You should read more to them. You should watch less TV with them.
–You should work less. You should educate more. You should stop feeding them Chef Boyardee anything.
–You should make them actually open the library books we checked out. You should enjoy them more.
–You should lose your patience less.
–You should have a more creative system for displaying their art than just putting it up on the fridge with the magnets that come with the pizza delivery.
–You should have built more fairy gardens instead of just giving them the leftover parts of the last vacuum cleaner to fashion into random pirate swords, wands or zombie weapons.
–You should make home made snacks.
–You should wash their sheets more regularly.
–You should eat less ice cream. You should exercise more. You should go to bed earlier.
You should be like her. –
She goes on to say "You are wildly under-rating yourself."  That's my favorite part.  Because we do, don't we mama's?