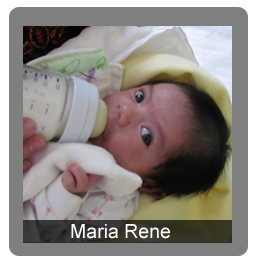 Name: Maria Renee
Birthdate: February 3rd, 2012
Story: Arriving only a few days after Christian Isiah, Renee's story is one of utter sadness, but also of unspeakable hope in our Lord Jesus Christ!
Renee was found discarded in an open sewer ditch with her placenta still attached. Her life was nearly over as quickly as it had begun.
The authorities determined that she had been there for a couple days which seems almost impossible, but when our Lord has a plan for someone's life, "I'm convinced that God, who began this good work in you, will carry it through to completion on the day of Christ Jesus". Philippians 1:6
It took 5 strong baths to rid little Renee of the rancid sewer smell, but she is now thriving in her forever home as we all await the unveiling of her life's purpose as she grows!
Prayer Needs: Her nights and days are still mixed up. She cries often, so pray for peace.
Sponsor Maria Renee for only $32 per month.