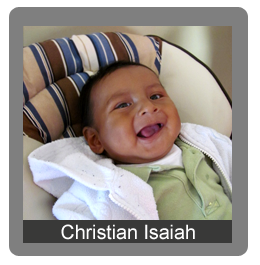 Name: Christian Isaiah
Birthdate: August 3rd, 2011
Story: Christian Isaiah came into our arms and care via ambulance with a police escort. He had been rescued from his mother who had been repeatedly intoxicated and not caring for little Christian. He was awarded us on February 21st, 2012 along with visitation rights from his mother who has come to our home twice to see him.
The judge gave Christian's mother until October 2012 to "make the appropriate life changes" and she can regain custody. Unfortunately she has not been complying with the judge's orders and is now in jeopardy of losing custody permanently. We are desperately trying to help Christian's mother, but thus far she is unaccepting of our extended help. Christian is the easiest baby to care for and is almost always happy!
Prayer Needs: Psychological trauma and his mother's recovery and life change.
Sponsor Christian Isaiah for only $32 per month.